Submissions

Call for Submissions:
illiterature. issue 7. a journal of found poetry.

For the seventh issue of illiterature. Puddles of Sky Press is asking you discover some poetry for us.

Poetry is all around, if you're looking with the right kind of lens. Newspapers, billboards, anatomy textbooks, receipts, crumpled up grocery lists in the bottom of a shopping cart… these are all sources rife with poetic potential. Look around the room you're sitting in. There may be a poem hidden somewhere close by. Is there a poem in your sock drawer? Is a poem lost in your recycling bin? Check your pockets, there may be poem stuffed in your wallet. When you're outside, keep your eyes peeled. A poem may spring up behind on your bus ride to work. You may stoop over and a find a poem in a discarded pack of cigarettes. Maybe your bank teller will recite a poem to by heart…

We're also hoping for you to uncover some concrete/visual poems. Take your camera with you, snap a photo of one. Photocopy one. Tear one out of a free movie magazine. Send us your butcher's business card…

Please note: illiterature. is a journal of collaboration. Your poem may appear on the same page as another poet's. Your poem may be printed on a card and stuffed into an envelope full of other poems. We're not sure what'll happen yet, but we ask that contributors be open to having their work played with in new and unexpected ways. If you're dead-set on your work appearing in a certain way, this may not be the journal for you. Please familiarize yourself with our work. Check out issues 3-6 to see what kind of work we publish and how we publish that work.

Submissions Guidelines

Send up to 5 found poems in a single Word Document.
For visual/concrete poetry, send up to 10 pieces as high-res .jpeg. Preferably 300dpi or higher.

We will be considering color pieces and photographs for this issue but please note that due to printing costs these pieces will be very limited… For this reason we recommend that the majority of your submissions be in black & white.

Please include the source of your poem. We may include this information in an index. ( ex. –from "Princilples of Anatomy and Physiology 12th Ed. Tortora & Derkickson; from a scrap of paper discovered on the side of the road…)

Attach a bio (of no more than 50 words) in a separate Word Document. This document should also include contact info (name/mailing address).


email submissions and/or questions to: editor@puddlesofskypress.com

Deadline: Sunday April 30th 11:59pm

Simultaneous submissions are accepted, but please let us know immediately if your work is picked up somewhere else. We'll let you know by May 15th if your work has been accepted.

Publication is planned for June 2017.

Compensation is one copy of the journal.

Many Thanks! We're looking forward to what you find!




---
OFF CUTS & LOOSE ENDS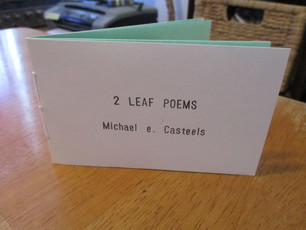 Throughout 2017 Puddles of Sky Press is hoping to use up our stacks of off cuts and our piles of loose end paper. What this means is we're planning on publishing a variety of publications from tiny chapbooks to postcards or bookmarks, broadsides or pamphlets.
Do to the size of some of these off cuts, they won't fit through our printers, meaning we'll be hand-stamping and typewriting many of publications as well. For this reason we're going to focus on minimalist poetry.

We're also going to focus on concrete/visual poetry publications as well.

Because of the nature of this project, each publication will be printed in a different print run… anywhere from 15-100 copies. For each publication the author will receive approximately 20% of the print run.

If you're interested in submitting here are a few guidelines.

- For unsolicited submissions -let us know why you think your work will fit with this project. Have you had your work published by Puddles of Sky Press before? Have you read any of our publications, or know the work of authors we've published?

- Please send up to 5 poems at a time. If we like what we read we'll ask for more.

- In your Email's subject line please write: "Off Cuts & Loose Ends – 'your name'"

- Allow 2-4 weeks for a response. If you haven't heard from us in a month, feel free to follow up.

- Send submissions to editor@puddlesofskypress.com

---